Current Systems describe The As-Is Situation

" Where Are We Today ? "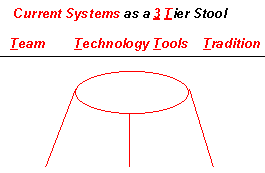 Visualize Current Systems as a 3 Tier Stool.

Teams of People Working with Hardware and Software Tools and Technologies. In Traditional ways of working.

During Information Systems transformation, Current Systems pose the greatest challenge in moving to Future Systems.





Email Us : Can we help simplify your Information Systems ?